Barre & Unhitched Certification
Stream from the studio or home and learn how to teach SoulBody's proprietary method of BARRE…a progressive, pre-choreographed, more athletic-style format! This LIVE-streamed course will give you all the tools you need to teach both SoulBody Barre & Unhitched – classes that are constantly evolving with quarterly choreography releases set to amazing music!
SoulBody programs are on-trend and fast-paced, yet mindful in its approach with progressions and regressions to challenge and cater to all skill levels! Our SoulBody Squad is an empowering group of instructors that are motivating through movement and their members cannot get enough! Education and support are an integral part of our community.
Learn:
SoulBody Barre and SoulBody Unhitched class method
Class Blocking
All exercises of the program
Cueing and follow up cueing
Modifications/Challenges
Working with the music and using the beat and rhythms to create flow
4 canfitpro CECs
.9 NASM CECs
9 AFAA CECs
.8 ACE CECs
SoulBody prides themselves on the education component of their BARRE program. The programs stay fresh, innovative, and most of all CONSISTENT!
Together we inspire through movement!
Enjoy LIVE STREAM VIRTUAL classes in the Fitness Junky Studio presented SoulBody's Master Trainer, Stephanie Medford. Contact Us if you have questions regarding the upcoming Barre and Unhitched Teacher Training.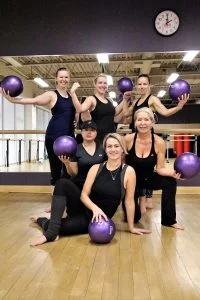 Book a 15 minutes discovery call with Stephanie to determine if this training is right for you.
Learn how SoulBody is "future-proofing" Group Fitness with classes that are innovative, smart and results-driven. The partnerships they form with health clubs and instructors are successful in creating winning relationships with members and participants.
SoulBody Unhitched Preview